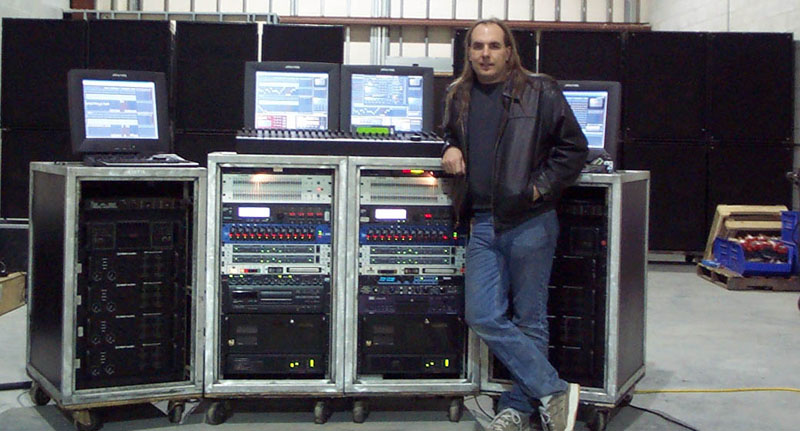 Winn Krozack of Paul Reed Smith Guitars with the " Space Shuttle "
Winn Krozack, shown above, is an R & D Project Manager for Paul Reed Smith Guitars. He has been with PRS Guitars for over 15 years. Winn has worked on a variety of Research and Development projects, including designing of the PRS Piezo System, digitizing the wood shop, reverse engineering of Santana's original guitars and recently designing the 513 pickups. Winn was the General Manager and House Engineer at Hammerjack's Concert Hall before he joined Paul Reed Smith Guitars. Winn Plays the Pipe Organ, the Piano and the Guitar. Winn has been in numerous bands, including Apricott Brandy with Dream Theatre's Jordan Rudess, U.S. Bang and Rolz Royce.

Winn is standing in front of the Paul Reed Smith PA that has been referred to as the Space Shuttle when they show up with the system. The system uses Yamaha DSP factory cards with RME converters running C-Mexx C-Console software. The system is controlled by 4 touch screen monitors and the Mixed Logic M24 control surface. PRS was one of the first to purchase the M24 in late 2001 and they have since added the Armrest and Wood Ends. They use the system primarily for the Paul Reed Smith Band and have also used it for large multi band concerts including several dates with a full 64 piece orchestra. During one show with the Chesapeake Symphony Orchestra, the entire Paul Reed Smith band, a five piece Blue Grass band and 8 vocalists, Winn used 84 live microphones and 96 channels at once. Winn can control front of the house and monitor mixes from the same location.