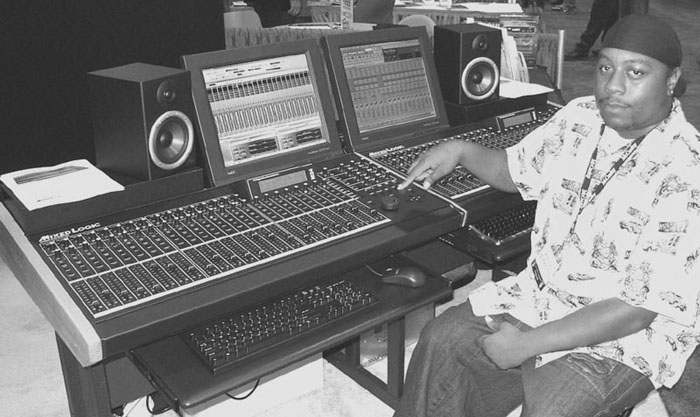 Saccs in the house L.A. AES 2002
Big Saccs aka Dazzie Dee, pictured above visiting the Mixed Logic booth at the 2002 AES convention in Los Angeles. Saccs has been an M24 owner since early 2002. We have received several referrals from Saccs since his initial purchase. He keeps in touch to update us and offer his input. He recently updated his firmware to take advantage of the latest features for Steinberg software.
Biography
Big Saccs was born and raised in South Central Los Angeles. At 14 he met Ice Cube, Dr Dre, Sir Jinx & K-Dee. Saccs first EP Turn It Loose was produced by Dre and Jinx. Saccs was one of the original members of the Lench Mob (formed by Ice Cube) due to artistic differences he left to record his first solo album "Where's My Reciept" (Capital Records, 1995), then re-released it as " The Rebirth"(Raging Bull, 1996) which was produced by BattleCat and Featured Ice Cube, K-Dee, Coolio, and Chill of CMW which is consider by many a westcoast classic. Now as one of the top westcoast producers Big Saccs has production credits for Str8 G, Mausburg & Sugafree The Konnected Project, Non-Fiction, Sqeek the Prima Donna, and recently worked along with D.J. Quik on Suga Free's new album " The New Testament". After 6 yrs of banging out beats he is now returning with a new album called "Saccs-u-ality on Geed Up / Laneway Records.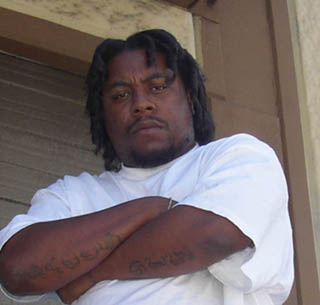 Discography:
Turn It Loose EP
feat. Sir Jinx & Michelle
Thin Lyne Records

Amerikka's Most Wanted
Death Certificate
Kill at Will
Priority Records

Tonights the Night frm Yo-Yo's
Make Way for the Motherload
Elektra Records

I'll be Good to You
Trey Lewd (George Clinton's son)
Warner Brothers Records

Everybody Get UP (O.G. remix)
Zapp & Roger Troutman
Warner Brothers Records

Live And Let Die
Kool G Rap
Warner Brothers Records

Music for the Award Winning
Tell Me Who I Am Video

Shadow of a G
Str8-G
A&M Records

Where's My Receipt
The Rebirth
Capital Records / Ragin Bull Records

Mash Down frm the Killafornia LP
Ragin Bull Records

Suga Free & Mausburg
The Konnected Project LP
Laneway / Universal Records

Non Fiction LP
Mausburg
Laneway / Universal Records

PMS LP
SQEEK da Primadonna
GEED UP Records

Get Out of the Game
feat. Big Mezzy & George Clinton
from the Soundtracc Choices(TBA)

JustUs
True Crimes Videogame & Soundtracc(TBA)
Universal Records

The New Testament LP(2004)
Laneway / Universal

Other Producing Credits:
Production Assitant for Dr. Dre, 2 Pac Shakur